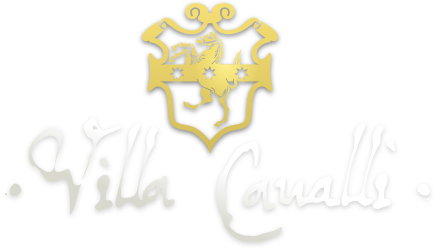 A STORY OF UNFORGETTABLE MOMENTS
Only a few kilometers away from Abano and Padua, on the outskirts of the Regional Park of the Euganean Hills and a step away from the Abbey of Praglia, Villa Cavalli, built in the early VII century, rises majestically in the town Bresseo di Teolo.
The recent three-year long restoration, has brought the Villa back to its ancient splendor.
Villa Cavalli, with its richly furnished rooms, is the perfect location for refined and unique events. It lends itself both to outdoor dinners, given the large spaces available in the park and under the barchessas, and inside in the large ballroom and adjacent rooms.
THE XVII CENTURY ELEGANCE
The villa consists of a residential body flanked by two long porticoed barchessas, at the ends of which two pertaining buildings are perpendicularly attached, which give the complex a horseshoe plan. On the west side there is the guesthouse, adjacent to a still consecrated oratory.
The building has two storeys that follow a traditional tripartite division of the plan. The main hall is marked on the outside by a large pentafora window on the noble floor, that opens on a stone terrace. The upper part of the facade culminates in a blind balustrade embellished with statues. The barchessas have large arches that rest on pillars and close with masks in a key.
In front of the villa there is a large park that in present day is bordered on the south end by a road.